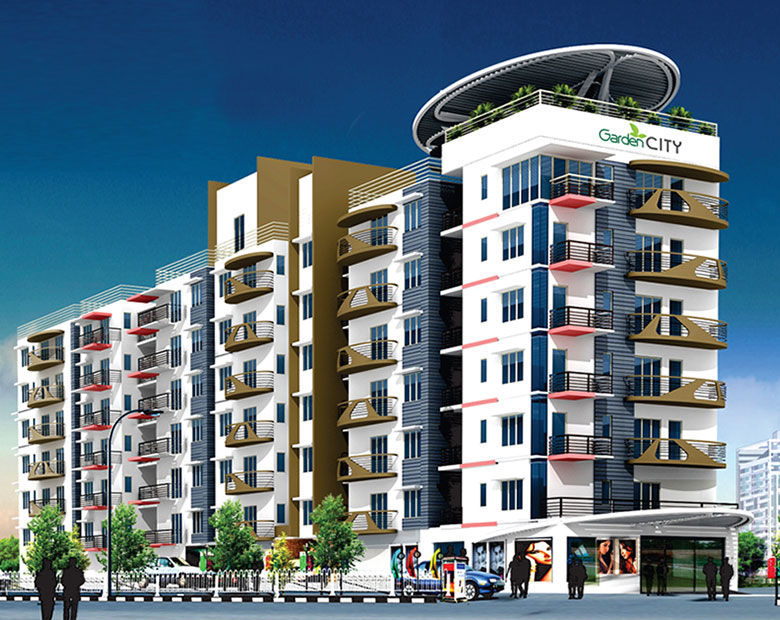 Garden City, Thokkottu, Mangalore
In a city so widely planned and far reaching, you get a unique perspective while you look at it from your angle! When you have decided to carve a home at Thokkottu, your fortunes seem to smile at you!

We just call it as "Garden City" an array of Super Deluxe Luxury Homes with a few openings for commercial ventures at the Ground Floor. 6 Floors of uniquely placed 1/2/3 BHK residential apartments with specially designed club House at the sixth floor and a unique swimming pool in terrace floor are additional amenities

Thokkottu Junction has a special appeal for residential living since the location is civic friendly with shopping, schools, health care, recreation and access to major professional institutions. Further commercial and office spaces are most sought after for their intrinsic business advantage!

HINDUSTAN-NGC, a joint venture well known for their series of projects; have taken up this project as a highly ambitious one with high quality apartments which shall be first of its kind in this part of the city. Mr. N.M. Salim, an architect of world fame, designs the "Garden City" with well entrenched vision- scapes which combines with quality construction with modern fixtures. HINDUSTAN-NGC Developers have set a trail of successful projects with 9 completed and 7 progressing towards completion.
Amenities
2 AUTOMATIC ELEVATOR of 8 passenger capacity.
GENERATOR for common and apartment lighting.
TELEPHONE with CENTREX facility (Intercom) connection.
CABLE T.V. provision.
CHILDREN'S PLAY AREA with play equipments.
RECREATION HALL in the terrace floor.
ATTRACTIVE VISITORS LOUNGE.
PRAYER HALL
KING SIZE SWIMMING POOL at terrace floor
TODDLER POOL at terrace floor
Club House will have Gym, Snooker & Table Tennis.
CCTV for visitors lounge.
RETICULATED GAS CONNECTION for all the apartments
MULTI APARTMENT VIDEO DOOR PHONE (MDVP)
SECURITY ROOM & COMMON toilets in ground Floor.
CAR PARKING.
Specifications
GENERAL
External painting of the building with exterior emulsion paints.
Compound wall and Gate.
Wooden Frames with Wooden Door for Main Entrance with Godrej Lock.
R.C.C door Frames with good quality decorative flush door shutters for rooms and Fibrotech shutters for toilets.
Colour Coated Aluminium window frames and steel grills.
All types of fixtures for door and windows.
Electrical fittings for recreation hall, common toilets, car parking and yard.
3KW Power provided for each apartment with single phase meter.
Power Failure Sensing Siren.
Overhead water tank and underground Sump Tank with required pumps.
Automatic water level controller for overhead tank.
Concrete Interlock Paving For Car Parking And Yard.
Marble / Granite Flooring For The Common Areas And Staircase.
Superior 24" X 24" Vitrified Floor Tiles For Internal Spaces Of The Apartment.
Designed Glazed Tiles For Toilets And Kitchen (24" Above Platform).
Granite Platform With Bull Nosing And With Granite* / Stainless Steel* Sink For Kitchen.
C.P. Plumbing Fittings For Toilets And Kitchen.
Branded Sanitary Ware (hindware*/ Parryware*) In All The Toilets.
Putty Finished Acrylic Distemper Painting For Ceiling And Walls.
Modular Electrical Switches.
Electrical Wiring Of Reputed Brand.
Superior Designer Locks For All Inside Doors.
Adequate Fire Fighting Systems.
DRAWING /DINING
T.V. Point and Telephone / Intercom Connection.
Wash basin for dining.
Call bell in the dining.
BEDROOMS
Wooden Flooring for Master Bedroom.
AC provision in all Bedroom.
T.V. Point in Master Bedroom.
Telephone line in all Bedroom.
BATHROOMS
Pressure checked plumbing and drainage lines to ensure total leak proof toilets.
Flush Valves / Cocks* for commodes.
Hot and cold mixer unit for all bathrooms.
IWC for common toilet and EWC for attached toilets.
Anti Skid ceramic tiles for bathroom floors.
Provision for geyser & exhaust fan.
KITCHEN AND WORK AREA
Adequate power points.
Provision for fixing and connecting water purifiers near the kitchen sink.
Plumbing and drainage connection with power point for washing machine.
Provision for & exhaust fan.
Provision for washing machine.
Location Map